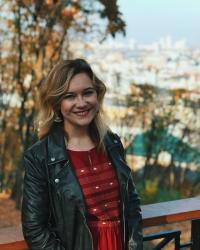 Biography
Ph.D., Germanic Languages, Kyiv National Linguistic University, 2018
CELTA, British Council Kyiv, 2016
M.A., English Language and Literature, Ternopil Hnatiuk National Pedagogical University, 2012
I have been working in the education field for more than eight years. My recent roles include teaching English as an instructor at the National Academy of Sciences of Ukraine, serving as a Project Specialist for the Academic Integrity Project at American Councils for International Education,  and working as an interpreter and translator.
I immensely enjoy working with students. This gives me so many opportunities to help them learn and learn from them in kind. I truly believe that through education we empower our lives while learning a foreign language we open a new world.
I am looking forward to the beginning of a new academic year at the UW to start my work as a Ukrainian FLTA. I invite you to join the Ukrainian course to discover a colorful and rich land of Ukrainian language and culture.