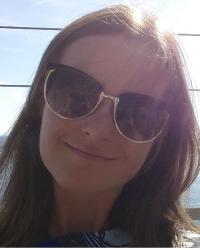 Biography
M.A., Translation Studies, Ivan Franko National University of Lviv, Ukraine, 2010
B.A., Translation Studies, Ivan Franko National University of Lviv, Ukraine, 2009
I am lucky to have three professional passions in my life: teaching, interpreting/translating, and research. I graduated from the Hryhoriy Kochur Department of Translation/Interpreting Studies and Contrastive Linguistics (Ivan Franko National University of Lviv, Ukraine), where I have also worked as a teaching assistant since 2011. I do freelance translation and interpreting (in particular, I have worked at various projects for the OSCE, USAID, Nestle, FIBL and many others).
Ukrainian translations of American great prose lie in the focus of my scholarly interests, and so the topic of my dissertation is The Reception of the American Prose in Ukraine in 1960-80s.
My teaching philosophy lies in a creative approach and active engagement of all the students in every class is what makes learning interactive and always yields good results!
I hope to see you in my class and together we will explore a truly amazing Ukrainian language and culture!